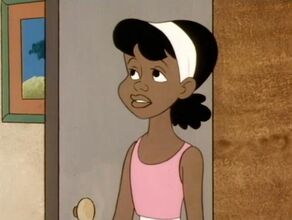 Undeen is a young girl who is the niece of Uncle Monty from the episode, "The Shuttered Window."
BackgroundEdit
Undeen has always been fascinated with her Uncle Monty's performances until when he passed away, she didn't understand at first but then heard about the news. It was hard for Undeen but then she realized that she'll never forget the good times she had with him.
AppearanceEdit
Undeen is African-American, wearing a sleeveless pink dress with a white belt, white knee socks and black velcro shoes. She has short hair in a curly ponytail with bangs and a white head band.
She is voiced by Erika Scheimer