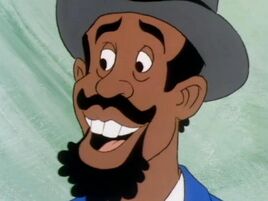 Uncle Monty (self-titled as "Monty the Magnificent") is a one-time character whose only appearance was in the season 4 episode, "The Shuttered Window." Monty became the first character in the series to die, although his death happened off-camera.
Monty referred to himself as "the second-greatest all-around entertainer in the world". He was a singer, dancer, amateur magician and comedian. Monty was also something of a teacher and mentor figure to others as he gave some pointers on skateboarding to Rudy, Fat Albert and the rest of the Junkyard Gang.
But above all his talents, Monty was a life-loving, good-hearted man. When Fat Albert informed the gang that the school had cut funding for sports, Monty decided to volunteer his talents and hold a benefit show to raise funds. The gang go for it full force, decorating the stage at school and even making posters advertising the show while Monty and his niece Undeen rehearse their song-and-dance routine. Fat Albert and the gang are putting up the posters all over the neighborhood when they run into Wambly, who sadly informs them that "there ain't gonna be a show" as Uncle Monty has just unexpectedly died. Fat Albert and the others are shocked, and their fears are confirmed after running to Undeen's house, where they see a funeral wreath adorned with white lilies hanging on the front door.
In "Rebop For Bebop", a character similar to Monty appears in the person of an elderly man named Lester Benson who is friends with Mudfoot.
Community content is available under
CC-BY-SA
unless otherwise noted.