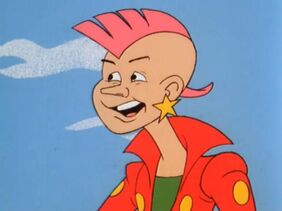 Buddy Warren, simply known as "Slash" is a teen punk boy who appears in the episode, "Rebop for Bebop."
Background
Edit
Slash is a main rival to Fat Albert and The Gang.
He is first seen when the gang was signing up for Battle of the Bands auditions, Slash explains and thinks that the boys wouldn't be good enough in the contest. Slash thinks the old man, Mr. Benson wasn't good either and insulted him and left and then the gang got him to do the music for them and then didn't want to because of slash's insults but then he got blown by the wind and saved and because of that he decided to do the music for them. As for Slash, he and his crew are defeated when the Junkyard Band won the contest. He was then last seen backstage when Russell made a joke of him as he frowned furiously.
He is voiced by Erika Schiemer, voicing one of the male characters in the show.
Slash strongly resembles Bobby Hanson from the episode, "Justice as Good as Ever."
Community content is available under
CC-BY-SA
unless otherwise noted.