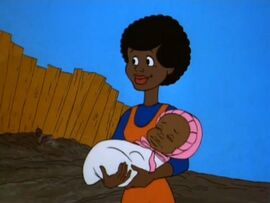 Liz Walker is a teenage girl who became pregnant with a baby girl named Monica. Her ex-boyfriend Gary ran off after learning she became pregnant with his child, leaving Liz to deal with her daughter alone. She begins to feel overwhelmed by her motherly duties to the point that she nearly hits her child.
One day, she takes a time out to talk to Fat Albert when he visits. But a fire breaks out at the apartment, trapping the two with the baby inside. The rest of the gang call the fire department, and they quickly respond to get everyone to safety. The duplex is ruined, forcing Liz and her mother to move in with her aunt. Fat Albert tells Liz that the local community guidance center can help her care for Monica. Liz can go back to school and learn to better care for her daughter with help from her mother and the center.
This was a groundbreaking character for the time. Not since Wilma Flintstone's pregnancy with Pebbles back in 1963, have there been a pregnant cartoon character, much less a pregnant teen with a child born out of wedlock. Liz was created to address the rise in teen pregnancy in the '80s. The episode she was in warns about the difficulties of rearing a child alone, and addresses programs that were helpful to young, single mothers.