Keiko is a Asian-American girl from the episode,
"Long Live The Queen."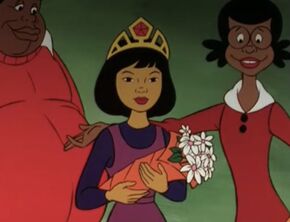 Background
Fat Albert and his friends elected Keiko Imora for America's Queen until a jealous girl, Cindy Collins runs against her and being critical about her not being American but later learns not to judge a book by it's cover and Keiko is crowned "America's Queen."
Appearance
Keiko has short, black hair and wears a navy blue shirt, a purple jumper and black, velcro shoes.
Trivia
She is voiced by Erika Scheimer
Gallery