Dulcie is a young girl who appears in the episode, "Animal Lover."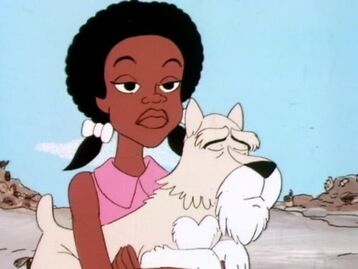 Background
She is shown to be very careless about her dog Sanford. When the gang was playing baseball, Sanford interrupts them and then they get mad at her and then Dulcie feels that the gang has no right to mistreat Sanford and then when Sanford interrupts their game they report this to the police and they putted him in animal control and then Dulcie finds that out and then gets mad that the gang reported him and then Fat Albert answers that he and the gang wanted their ball but Dulcie just leaves angrily the part where she and Sanford are shown they look at the gang angrily and then Dulcie thinks that their picking on him and he gets Sanford to chase them away but Dulcie tries to stop him when he goes too far and then when she tries to get Sanford back, another dog bites her and then Dulcie says that it was because of Fat Albert and the gang that she got bitten but when her mother saw the bite mark, she rushes her to the doctor to give a test for rabies, The Gang has a meeting to help Dulcie from getting a rabies shot.
LESSON LEARNED -  DULCIE SHOWS THE GANG THAT SHE HAS RESPONSIBILITY FOR SANFORD AND PUTS A LEASH ON HIM
Trivia
She is voiced by Erika Scheimer
Community content is available under
CC-BY-SA
unless otherwise noted.